Magnetic Rotary Encoder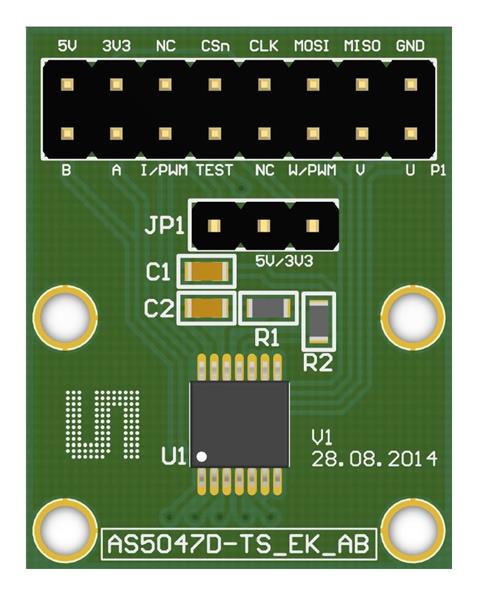 Working of Servo motor:
AS5047D is a high resolution magnetic rotary position sensor.
AS5047D is a high-resolution rotary position sensor for fast absolute angle measurement over a full 360-degree range.
This new position sensor is equipped with revolutionary integrated dynamic angle error compensation (DAEC™) with almost 0 latency and offers a robust design that suppresses the influence of any homogenous external stray magnetic field.
A standard 4-wire SPI serial interface allows a host microcontroller to read 14-bit absolute angle position data from the AS5047D and to program non-volatile settings without a dedicated programmer.
---
Internal mechanism of AS5047D encoder.
The AS5047D is a Hall-effect magnetic sensor.
The signals from the Hall sensors are amplified and filtered by the analog front-end (AFE)
Then converts into Digital signal.
The output of the ADC is processed by the hardwired CORDIC (coordinate rotating digital computer) block to compute the angle and magnitude of the magnetic vector.
The intensity of the magnetic field (magnitude) is used by the automatic gain control (AGC) to adjust the amplification level for compensation of the temperature and magnetic field variations.
The internal 14-bit resolution is available by readout register via the SPI interface.
---
I2C Protocol
SPI stands for Serial Peripheral Interface.
SPI was developed by Motorola to do full-duplex synchronous serial communication. Contrast with I2C which is half-duplex protocol.
SPI uses 4 wires for communication.

Below are the two parameters that defines the clock format to be used by the SPI Bus,
Clock Polarity (CPOL): used to determine the ideal state of the clock, if CPOL is 0, then ideal state is 0. If CPHA is 1, then ideal state is 1.
Clock Phase (CPHA): phase determines at which edge data read/write occurs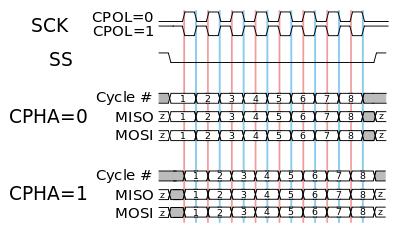 ---
Useful Resources
AS5047D Datasheet: Datasheet by ams
Board Manual: Manual




For more information refer documentation.